Spiffy Blue FAQ
Which app should I download?
Download the Spiffy app.
Where do I plug in my Spiffy Blue sensor?
On-board diagnostics port location varies by vehicle, but most fit into one of three places. Check out our handy diagram below. If that doesn't do it, give us a call at 877-433-6840.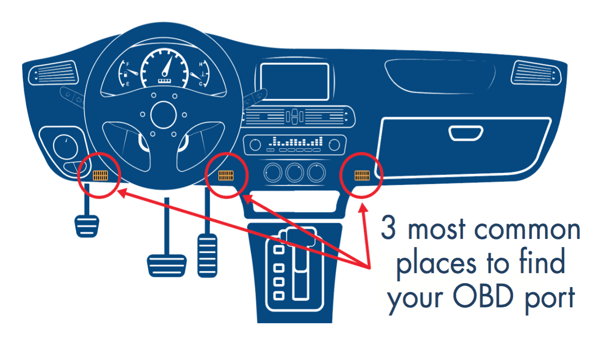 How do I connect the Spiffy app to the Spiffy Blue sensor?
 Start your car and leave it running
Turn on your phone's Bluetooth
Open the Spiffy app and click "Scan Now"
Now take control of your car care
If you're having trouble:
Check that the Spiffy Blue sensor is completely plugged into your OBD port
Try removing and reinserting the Spiffy Blue sensor
Keep your vehicle turned on & running
Turn your phone's Bluetooth on & keep your phone close to the sensor
Still

 

have questions? Our customer care team is here to help. You can give us a call at 877-433-6840. 
Can I use Spiffy Blue for multiple cars?
You can use one Spiffy Blue sensor per car. If you purchase a sensor for each of your vehicles, you can manage them all within the Spiffy app.
How long can I leave Spiffy Blue plugged in?
You can leave Spiffy Blue plugged in for as long as you want. It does not retrieve data without you asking by clicking 'Scan Now' for a scan.
Does Spiffy Blue track me?
No, Spiffy Blue does not track your vehicle. Spiffy Blue solely reads trouble codes from your engine, and only does so when you ask it to scan.
Does my car need Bluetooth?
No, your car does not need Bluetooth. Your phone's Bluetooth is all you'll need in order to connect to the sensor.
Can Spiffy Blue clear a check engine light?
Yes. Based on customer feedback, the latest version of the Spiffy app can clear the check engine codes. If you go to the vehicle diagnostics page, there is a "clear" button on the top. When you click it, it prompts a disclaimer and once you accept it clears the code and turns off the check engine light.